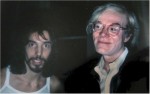 Neke Carson became (in)famous for his painted portrait of Andy, which he made holding the brush in his behind. But there's much more to Neke than his reputation as the Rectal Realist, a distinction memorialized in the movie Nine and a Half Weeks. (He had a cameo appearance in the movie and the 'Rectal Realist' was discussed in a party scene.)  Neke was also famous for his highly mischievous art 'events,' which were humorous and sometimes elaborate pranks, carried out in the most prestigious of New York's galleries. Neke Carson is impossible to categorize and in recent years, in addition to his longtime presentation of performances at the Gershwin Hotel, he's taken to dazzling audiences with his own very unusual and entertaining style of piano playing.
Neke Carson and Andy Warhol, back in the day, photographed by Anton Perich.
Order a copy of Neke's Goodie (with great photos, including one of Andy sitting for Neke as he paints his portrait, holding the brush in his rectum) for $5 including postage, in the US, by clicking the Paypal button on the Shop page of this web site. To make other arrangements, please send me an email.