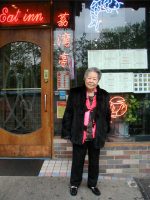 Madame Sui Fong Wong passed away in November, 2014, one day before her 90th birthday. She was a great star of the Cantonese Opera, and many shades of New York color radiated from this lady. Her Goodie is one of my very favorite issues of all.
An excerpt, from Sui Fong Wong:
"When I was in the third grade I used to sneak out to the theater. I lied to my mother and pretended to leave for school, but instead I got a classmate to go with me and went to the theater. They charged ten cents. My mother never knew, and because she had bound feet, she couldn't come looking for me. Ten cents! I used to come home and stand in front of the mirror and do what the actors did. My father was a doctor. One of his clients said to him, 'Your daughter is very beautiful. She should be in the movies or the theater.' My mother did not want me to become an actress because it wasn't very reputable. But I loved acting.  I was 13 when I began acting, in 1936. I left my parents' home at 13 with an acting troupe and traveled around Canton and to Macao, and when I was 16, I went to Hong Kong with a bunch of fellow actors. I lost contact with my parents when I left. I knew they were somewhere in China but I didn't know where because everyone was scattered and running because of the war."
If you would like to order a copy of Madame Wong's Goodie, please send $5 using the paypal button on the Shop page of this web site. That price includes postage within the US. For any foreign orders, please send me an email.
Read my obituary for Madame Wong in Walkers in the City.
Photo of Sui Fong Wong in Chinatown by Romy Ashby