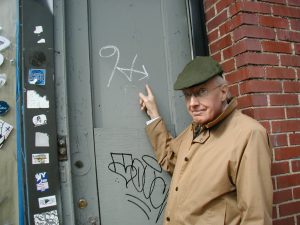 Perhaps most inspiring about Hank O'Neal is the way he's made a life's work out of all of his favorite things. He's been recording music since 1966 and has a label (Chiaroscuro Records) full of stardust.
Over the decades he's been lucky to count among his friends such people as Eddie Condon, Lee Wiley, Djuna Barnes, Jackie O and Berenice Abbott.
He lives down on Lower Broadway near the Strand bookstore, in a loft full of records, books and photographs.
He loves baseball and Jazz, and in a certain way, he loves everything. Having spent decades wandering around the city photographing graffiti, Hank published a book of those photos in 2012 called XCIA's Street Art Project: The First Four Decades. The name, XCIA, comes from the fact that Hank, along with having been a modern ballet dancer, was once an actual CIA agent.
Hank has published many books on many subjects, including Eddie Condon's Scrapbook of Jazz, The Ghosts of Harlem, Berenice Abbott: American Photographer and Life is Painful, Nasty and Short; In My Case it Has Only Been Painful and Nasty: Djuna Barnes, among others.
He's never short on stories, and those stories are what make his Goodie such a delightful one to read.
If you would like to order a copy of Hank's Goodie, please send $5 using the paypal button on the Shop page of this web site. That price includes postage within the US. For any foreign orders, please send me an email.
Photo by Romy Ashby, 2012.