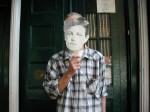 I first remember being dazzled by Hattie at the Pyramid Club way back when–it must have been the late 1980s–and then there were the '90s of Jackie 60, Click and Drag and Gray Gardens. Hattie Hathaway/aka Brian Butterick: One of the great minds still left in the city.
My Dear Readers letter for Hattie's Goodie:
"Brian Butterick and Hattie Hathaway are two names for one person with a thousand incarnations, making for countless entries in the great ledger of New York City significance. Invoke any truly inspired scene, from the Mudd Club and the Pyramid to Jackie 60 and Wigstock, and Hattie's signature swirls across its legacy. For us, Hattie personifies the Tuesday nights of Jackie, where we enjoyed uncountable evenings of genius. We will never forget Hattie's chorus of three street urchins at the Jackie Christmas show. Standing under a dim light on the tiny stage, they sang a lovely old hymn called In the Bleak Midwinter, while a big drag queen's hand threw paper snowflakes at them from behind a curtain. The beauty and simplicity of it was heart stopping. Two summers ago we were thrilled to see Hattie on Broadway, in Wallace Shawn's translation of The Threepenny Opera, directed by Scott Elliot. Hattie was born for inventive performance. Great theater is in her family tree. In December of '06, Hattie co-founded the Rapture Café and Bookshop with Joe Birdsong on Avenue A, where, until its unfortunate closing some months ago, they hosted an endless pageant of old-school New York style happenings always worth going to. It's a sad fact that New York City cannot sustain little independent bookshops, cafes or theaters like she could before. But there is an enduring gypsy tradition of doing a hell of lot with nearly nothing, and Hattie knows all about that. The happenings of Rapture haven't ended, they just move around now. We'll keep you posted. It is our great fortune to have Hattie as an inspiration and a friend, and it is a privilege to share some of Hattie's stories with you."
Please order Hattie's issue of Goodie via the Shop page and it's 'donate' button. Issues are $3 plus $2 for postage, in the United States. If you are ordering from a foreign country, please send me an email.
Photo: Romy Ashby