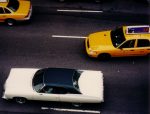 That's Debbie's car going by downstairs, the picture snapped from my window on 7th Avenue. Debbie needs no introduction, but we didn't talk about Blondie at all for her Goodie. We talked a lot about childhood and the way New York used to be, and her issue is also about Jackie 60, the legendary nightspot created by Chi Chi Valenti and Johnny Dynell, because  it was coming to an end at the time we did her interview. My letter to the readers:
"This is a very special issue of Goodie, because it will be the last to appear during the lifetime of our favorite temple, the mystical sanctuary, Mother. Since the club will close at the end of June 2000, it is only right that our subject be Debbie Harry, aka Debravation Domination, la Reine de la Bôite, who has gone through such transmutations upon the tiny stage of Jackie 60 and click + drag. She's been the Wicked Witch of the Westside Highway, an armed geisha, a sleazy priest, and just a plain old sleazy customer. She's pinched a few butts in that place, and had hers pinched a few times. She has a sense of humor that is all askew and contagious. She has a lovely singing voice. She can wail just like Lucy, she can impersonate specific dogs. She's an adventuress, a nut, a thinker, a good cook and a strong swimmer. Animals dig her vibe. She has an amazing sense of smell and the ability to assess a situation by its scent. She knows where the garage sales are. She's generous to a fault. She can spit far. She's the only person I've ever met who's actually called to say she had a pain in her medulla oblongata. Most subjects of Goodie thus far have met or know each other. Buffie Johnson has Debbie's old exercise bike in her studio, which she rides facing the window ("So people can look up my dress") and has said, "Make sure you thank whats-her-name for this bike, I love it." Ira Cohen thinks Debbie is extremely clever for saying to him, "You know why six is afraid? Because seven eight nine." And Edgar Oliver says that Debbie's is the most enigmatic smile he's ever seen. We feel very lucky to have her as a Goodie, and hope that you'll enjoy reading this as much as we did making it. This issue is dedicated with love, respect and admiration to Chi Chi Valenti and Johnny Dynell, New York City's monarchy of the sublime."
If you would like to order a copy of Debbie's Goodie, please contact me, or you can make a donation with the paypal button on the Shop page of this site, and let me know which issue/issues you would like.