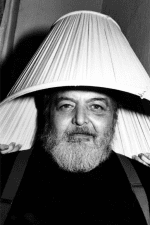 Marty Matz was an enormously likable guy, big and bewhiskered, a lover of animals and opiates, a great poet and a wonderful storyteller. Like most good artists he never had any dough to speak of by the end of his life, but if his stories and his poems were worth their weight in gold, he'd be loaded. This photo was taken by the great Ira Cohen.
From my letter to the readers in his issue:
"Just this week, it seems that Ira Cohen got Marty a job posing as a 300 pound pirate wearing nothing but meat and jewels for a photograph. We wish like hell we had that for the centerfold of this goodie, but, oh well. If we had known he would pose naked, we would have asked him ourselves."
The interview with Marty for Goodie took place in one of the Helen Oliver Rooms at the Carlton Arms Hotel, which very recently (in February and March of 2015) inaugurated two new Helen Oliver Rooms. I photographed Marty reclining on the bed with one of Helen's marvelous paintings behind him. How glorious it would have been had Marty been naked!
Marty died in October, 2001. Because he was in hospice care, I was allowed to bring my dog Pilar to visit. Marty adored Pilar, and she adored him in turn. It is said that Marty's last word was "Pilar." I like to think that is true.
I contributed an essay on Marty, "Marty Matz, Poet," to Clayton Patterson's epic, three-volume collection of writing called JEWS: A PEOPLE'S HISTORY OF THE LOWER EAST SIDE, a collection that I cannot recommend highly enough. The musician and composer Chris Rael made some wonderful recordings with Marty which can be found online, and Penny Arcade & Steve Zehentner immortalized Marty in their Lower East Side Biography Project series.
Along with Goodie Magazine, I was the editor of Panther Books during its brief existence. We published Marty's collected poems. If you would like to buy a copy of that book, which is called In The Seasons of My Eye, please use the paypal button on the shop page of this site. Marty's Goodie is $3.00 plus $2.00 postage and his book is $10.00 plus $3.00 postage in the United States.