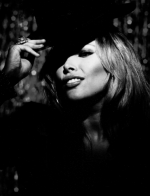 I first met Yana Chupenko in the early 1990s when I was introduced to her by our mutual friend Carla Olla, who was in a band called PMS (Pre Metal Syndrome) with Yana at the time. Like everyone, I think, I loved Yana right away. She's one of the most magnificent creatures I've ever encountered; beautiful, smart, talented (a fabulous singer and stage presence) witty, a lover of animals, and a mensch. From my Dear Readers letter in her Goodie:
"The magic of Yana is her possession of so many outlandish and wonderful characters within her one self. She's a James Bond Girl Diva with a sort of crazy Latin Russianness and a big sparkling laugh, she's the Barber of Seville of rock, she's Las Vegas on one side and Monaco on the other. People faint over her outfits. She studied opera. She's smart and eloquent. She's a Queens babe, and a Russian Queen. She's a Real Woman. She's a superstar up close on a tiny stage. Sometimes you can hear the tiny edge of an accent when Yana speaks, but one which is not easily identifiable. It's exotic, a faint, all-purpose accent, which could be Italian or Brazilian or Icelandic. As luck would have it for all of us, she ended up here when her own government ousted her as a child. Yana is one of our treasures. She still feels very Russian, sometimes very Jewish; she loves Alla Pugachova, Gypsy Romanses, she loves Pushkin's Eugene Onegin, the tearjerker she read as a child in Russia, and she loves Led Zeppelin, AC/DC, and the Ramones. She's a sweetheart and a tough cookie. If you have never heard Yana sing with Shiny Mama, please watch for her and go. You will come away feeling happy and powerful. We are so lucky to count her as a friend and influence."
Please order Yana's Goodie with the paypal button on the Shop page of this site. Goodies are $3.00 plus $2.00 for postage in the US. For outside orders, please send me an email.
Photo of Yana by Tim Carter