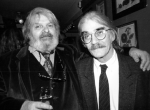 As with quite a few of my Dear Readers letters for Goodie I said 'we' in this rather than 'I', although it was in fact I who bought the signed copy of Women, by Charles Bukowski, from Roger in 1991 or 1992. I still remember standing in the entry to my building, where I still live, talking with Roger about books for an hour or so while it rained outside. It would be years before Goodie came into being, and thankfully Roger Richards said yes to a Goodie interview. Foxy and I both got to know Roger quite well after meeting Marty Matz and that whole funny bunch. What's sad is that Roger died, very suddenly, before I had finished my edit. I can only hope that he would have liked it, as many other people have. It remains one of my favorite Goodies to date. My Dear Readers letter from Roger's Goodie reads like this:
"Like many, we first met Roger through buying a book from him, a signed copy of Charles Bukowski's Women. By that time his legendary shops Greenwich Books and The Rare Book Room were no longer, and Roger himself delivered the book in his own hand. We had the great fortune of becoming friends with Roger and Irvyne Richards around the time we met Marty Matz and Gregory Corso. Soon after Gregory died, the New York Press came out with a big article about Roger and for a whole week, there was Roger's face looking out of every NYPress paper box in the city. On every corner, there was Roger! It was wonderful. The most humble of people, Roger was a lightning rod for the most outrageous characters in New York, something which, even as we interviewed him in November of 2002, he found almost unbelievable himself. Roger loved music and books with absolute passion, and he loved the characters playing in the great drama of New York and the Village. He knew what made life spicy. He championed Herbert Huncke as a writer, and in the late seventies, Roger published one of the last works by his friend Henry Miller, as a limited edition chapbook. He and Irvyne opened their home to Gregory Corso who came one night and stayed for twelve years. There is no person we can imagine as purely gracious as Roger. His understated brilliance, his humor, his innocence, his whiskers and his wit cannot be found in so perfect harmony in anyone else. We interviewed Roger on a stormy day at his place on Horatio Street, surrounded by piles of books. We left with our tapes and notes, feeling that to live life truly well, balancing its beauty and nightmares, is to live it the way Roger has lived. In December, on his seventieth birthday, it would seem that Roger's friends Herbert Huncke, Gregory Corso and Marty Matz gathered together at the Cedar Tavern in Paradise, decided they were going to reach down and grab Roger up, and did. Roger wrote us a letter shortly before he left, to make sure that certain points went into his Goodie, which Irvyne mailed to us after he had gone. We've included his letter herein, and we just hope that Roger will be pleased with how it all turns out, until we meet him again, at which time hopefully, we'll know the secrets."
This photo of Roger on the right with Gregory Corso was taken by Shiv Mirabito.
You can order Roger Richards's Goodie here by sending $5.00 via paypal on the Shop page of this web site. That includes postage within the United States. If you are outside the US, please send me an email.