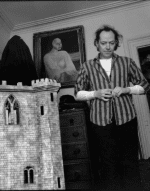 From my letter to the readers in Edgar's Goodie:
"One of the most intoxicating aspects of Edgar Oliver is his voice, which is quiet and whispery, and resonant as a viola da gamba. His manner of speaking, like his person, is elegance itself. Edgar is nocturnal, spooky, antique, very funny, and addictive. Unfortunately voices are lost in print, and this is why if you've never heard Edgar speak, you must scour the papers and go see him perform."
Thanks to Youtube there are many chances to hear Edgar's wonderful voice in addition to the many opportunities to see him perform in person. Some of his superb recent works include Helen and Edgar and The House on 10th Street: Self Portrait with Empty House, both of which earned glowing reviews from the New York Times.
When I did the Goodie interview with Edgar, part of it was done in that empty house on 10th Street (the rest over the telephone) and there was no place more beautiful than that old house, especially with Edgar in it. He was made to leave it a while back, and as of this writing, it still stands completely empty, unsold, on 10th Street.
Along with Goodie Magazine, I was the editor of Panther Books during its brief existence, and we published Edgar's novel The Man Who Loved Plants as one of it's three titles. I also interviewed Edgar about his discovery of being Jewish, which appears in Volume Two of Clayton Patterson's epic, three-voume collection JEWS: A PEOPLE'S HISTORY OF THE LOWER EAST SIDE.
Please use the paypal button on the Shop page of this site. Edgar's Goodie is $3.00 plus $2.00 postage and his book $10.00 plus $3.00 postage in the United States.
The photo of Edgar above was taken by Ludovic Fremaux.