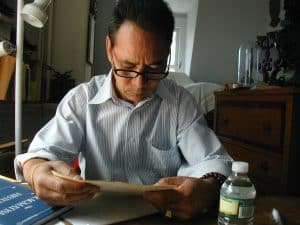 In 1972, Indra Tamang met Charles Henri Ford, considered the father of American Surrealism, in the dining room of the Kathmandu Hotel where he was a waiter. Soon, CHF hired Indra as a personal assistant and cook. In 1974 Charles brought Indra to New York, where he has lived ever since. For decades he worked with Charles as an artistic collaborator, and in  later years, as his caretaker. After Charles died, Indra cared for his sister, the actress Ruth Ford, for the rest of her life. In her will she left  her apartment and Charles's, both in the Dakota, to Indra Tamang. This caused a flurry of international attention around "The Nepalese Butler" who inherited two apartments in the venerable Dakota. He maintains stewardship of Charles Henri Ford's work and builds on his own large archive of photographs. Indra is a walking encyclopedia of Charles Henri Ford anecdotal history  and he is very interesting himself as well.
From my Dear Readers letter in Indra's Goodie:
"Visiting the Dakota for the first time is a wonderful experience, even the elevator, which looked to us like a confessional. It was the first sit-down elevator for either of us. So we sat and creaked up to the 9th floor— to one of the gabled apartments once used by hotel employees with a breathtaking view of Central Park—where Charles and Indra both lived and worked for many years. We liked Indra right away and feel privileged to have befriended him. He lives with his wife and daughters in Queens, but every day he comes to the Dakota, attending to the many tasks of managing the archives of Charles Henri Ford, and organizing a substantial collection of his own photographs and collage work. Sometimes he brings his little daughter Zina along, sometimes his middle daughter Juneli comes and helps out with clerical tasks. He looks after a big turtle who once lived in the Italian consulate. He also looks after Charles's sister, the actress Ruth Ford, who lives downstairs. Many famous names have been associated with the venerable chateau on the park, but for us it will always be Indra who personifies the Dakota with his warmth, his stories and his Lapsang Souchong tea."
Not long ago, Indra started The Charles and Ruth Project to celebrate and further the legacies of Charles and Ruth, and to that end I have been working as editor of the first book to be published through the project, which is a collection of diary entries and letters written by Charles in the 1920s and '30s.
You can order Indra's issue of Goodie using the paypal button on the Shop page of this web site. It is $5, which includes postage in the United States. Anyone ordering from outside the country please send me an email.
Photo of Indra at the Dakota by Romy Ashby, 2013