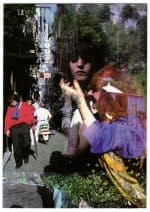 These accidentally double-exposed photos were taken in 1992 in the Valley of Il Porto and in Naples, Italy. That's Vali Myers with the red hair and my head hanging  there in a shadow. Wearing the red shirt and walking along the street is Herbie Kearney, the Irishman with the golden voice for songs, poems and love. It was through Vali that I came to know Irish Herbie in Vali's room at the Chelsea Hotel almost a quarter century ago, and we had some wonderful times together in the Valley of Il Porto where Vali lived with all her animals. Vali has left the world, I still live in the same joint I lived in then, around the corner from the Chelsea Hotel, and Herbie is in New Orleans, going strong, as full of life as ever as of this writing in 2015.
In my Dear Readers letter for Herbie's Goodie I used "we" rather than "I" to make for smoother reading, but it was actually eight years before Goodie came to be when I first met him in Vali's room one night, when I had gone over by myself to look at some of his beautiful bone carvings. From my Goodie letter:
"It was sometime in 1991 when we met Herbert Kearney in Vali Myers' room in the Chelsea Hotel, during a period of some famously madcap nights in that room. Much of the craziness had to do with "Vali and the Irish boys," one of whom even got tossed over the sixth floor railing, put a dent in the floor below, and lived to tell of it. A street cop shot off his service revolver into the ceiling during a night of Russian Roulette. But there were quiet evenings too, where Vali would make sweet Moroccan mint tea served in colorful little glasses, and on such a night we met Herbie, without doubt the most gentle of all the Irish boys; a young, fresh and then beardless leprechaun. He showed us some bone carvings he had done with a plain little pocket knife and they were beautiful.
Sometime after, Vali sent him off to her wildlife oasis in south Italy for awhile. When we visited her there, we found Herbie nuzzling the enormous pig in the garden, even more of a leprechaun than before. Since that time we have never let him too far from our sight, despite his being the most footloose of fanciful creatures we know. Lately he's been in New Orleans, doing charcoal drawings, painting, and casting sculpture in wax and bronze. At the moment he's in Ireland, working on a giant wood carving, staying with his father in Cork. Herbie sings in a lovely tenor, he can recite poems and tell stories, he is unfailingly kind, injustice causes him great pain, and he tends to land in jail quite often, without doing much of anything to deserve it. He loves the creatures of the animal world and would surely wade into fire to save a toad. His love of life is contagious and that is his gift to us all."
If you would like to order a copy of Herbie's Goodie, please send $5 using the paypal button on the Shop page of this web site. That price includes postage within the US. For any foreign orders, please send me an email.
Photos: Michele Burgevin