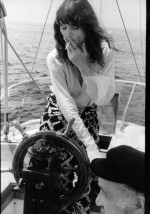 Mikki Maher is another old friend of Liza Stelle's. They knew each other from the 1960s, and they were both in the movie Alice's Restaurant. I always found Mikki to be endlessly interesting and utterly glamorous whenever I'd run into her, usually  with Liza and often with Ira Cohen. I remember being out in Montauk many years ago with Mikki and Liza, just the three of us. We were staying at a house up in "Hither Hills" without a car. Mikki had run out of cigarettes and if memory serves, in order to get some she walked all the way to Amagansett and back again, along the beach. It took hours. I could see her coming from miles away, tall and stately at the water's edge, with a sarong wrapped around her head like a turban, in the center of which sat her pack of Camels.
From my Dear Readers letter:
"Michaeleen Maher, called Mikki by her friends, is among the most truly interesting people we're lucky enough to know. She's a scientist, specifically a parapsychologist, trained in brain research. The Parapsychological Association is a member of the American Association for the Advancement of Science (AAAS). Mikki is a known ghost investigator, and chances are, if you've watched Unsolved Mysteries in the middle of the night, you've seen Mikki on TV. Mikki lives on the 39th floor of a building on Manhattan's West Side. From her windows one can see the whole glittering city spread out all around. Mikki personifies that majestic and wondrous view. She's extremely articulate, funny and theatrical. She might have been a famous actress had not other interests won out. Her person exudes a kind of exotic promise that time spent with her is never time wasted. She was and remains fearless and confident. Her life reads like an adventure story, the things she didn't do as funny as the things she did. She was almost in a Satyajit Ray movie. Andy Warhol wanted to put her in a movie and she said no, which she regrets. She was worried she'd have to take her clothes off. But she said yes to many more adventures than no, resulting in a memory full of stories. In spite of all that she's seen and done, she remains obviously curious about everything. In the climate of evershrinking intellects, what a relief it is to spend an evening with Mikki Maher, to come away hopeful and inspired."
If you would like to order a copy of Mikki's Goodie, please send $5 using the paypal button on the Shop page of this web site. That price includes postage within the US. For any foreign orders, please send me an email.
Photo: Liza Stelle.